I started with sharing info about my SaaS website last year, you can read it here. This year I will share mostly the same data, let's get to it:
Visits and users
I still use google analytics, but I started using newer version and I miss data from January to May. In November 2021 there were 13k users, while in December 2022 there were 26k.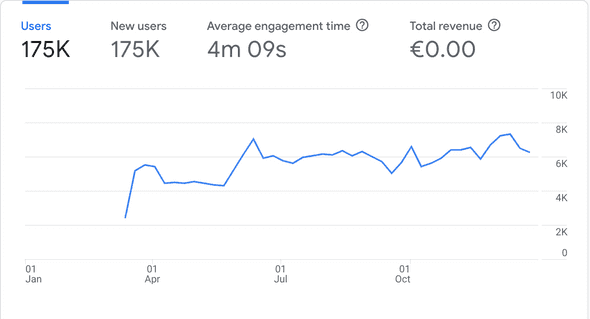 2020 - 38,5k
2021 - 77k
2022 - 175k

Seems like a nice increase, but Google is helping a lot, which is traffic that does not convert well:

I was sharing the number of registered users before, so here is an updated histogram of registered users (total registered user count is 11 284, compared to 7 415 in 2021):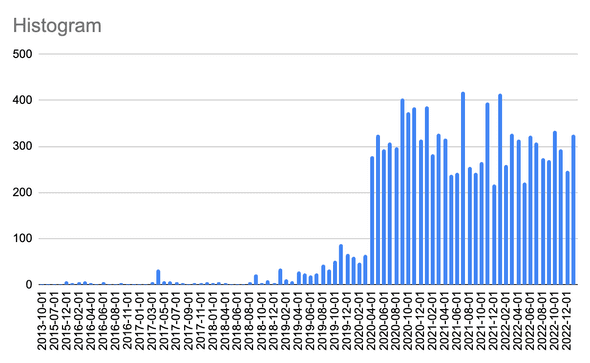 Favourite dividend stocks in 2022
There have been 190 670 transactions added to Digrin in 2022. As of today, we have over 16492 stocks and ETFs on Digrin. Here you can see stock symbol and how many times it was added to portfolio:
O: 4213
INTC: 3833
MSFT: 3704
T: 3650
AAPL: 3094
MPW: 2966
MMM: 2958
VZ: 2850
MO: 2847
JPM: 2329

Favourite growth stocks 2022
META: 3168
GOOGL: 2622
AMZN: 1737
PLTR: 1655
DIS: 1269
BABA: 1246
WBD: 1208
TSLA: 1012
AMD: 954
GOOG: 938

(I know DIS used to pay dividends, but I filtered based on dividend per share value, which is missing for DIS)
Features 2022
In 2022, I did merge like 80 merge requests. Improved dividend information, especially multiple sources for ex-dividend and payment dates. Added info when each stock was updated, financial stock page and added interactive brokers support for transaction synchronisation. And a lot of other small changes and bug fixes. Digrin.com is much more stable now, but it still runs on single server. Maybe move to cloud in 2023?
Pricing 2022
In 2021 Digrin was at 160 MMR, after 2022 Digrin is now at 350 MMR. If it continues like this, I might be able to afford some broker syncing platforms I've been looking at. Kudos to 77 paid supporters Digrin has now. You da best!
Affiliate program that costs me 59 USD every month and has 410 EUR in total revenue. Still money loosing feature, but better than last year (55 EUR).
Plans for 2023
I have 21 issues in gitlab I need to fix/implement (I had 31 on 1.1.2023). Apart from fixes, I have few more ideas how to improve dividend data. I wanna improve CSV import e.g. I will support export from yahoo finance or most common brokers. I think this might be useful even if I will be able to sync brokers, there are still people that don't want to connect their broker to any website. I'd like to leverage investors on Digrin as well. Digrin often pulls wrong data, would be nice if investors would be able to fix this. Maybe even predict future dividends, as my projected dividends algorithm in dividend calendar is very simple. Then there are just minor issues. And I'd like to move Digrin under Estonian company this year.
Also, I find it hard to choose dividend stocks for my portfolio, I think there are too many data, so it would be nice if I could implement a screener that I would actually find valuable.